This weeks organic fruit and veg.. 23rd july


This weeks yummy recipe....
Courgette Fritters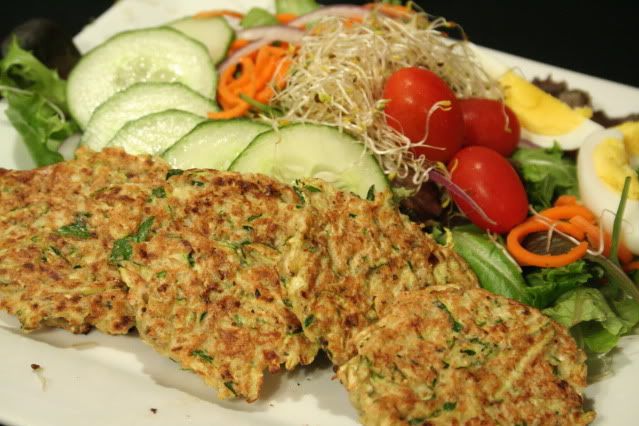 ingredients..
450g Courgettes, grated
30g Freshly Grated Parmesan Cheese
2 eggs, beaten
4 tbsp Whole Wheat Flour
Salt and Pepper to taste
Pinch Chili Flakes

Directions
– Squeeze the courgettes in a dish towel to remove any excess water, then combine with the Parmesan, eggs, flour, salt and pepper and chilli flakes.
– Heat a splash of olive oil in a frying pan and add 2 tablespoons of the mixture for each fritter.
– Cook three fritters at a time for 2 – 3 minutes on each side, until golden brown, then keep warm while you cook the remaining fritters.
– Serve warm with a nice green salad
Makes 12 fritters......
thanks to the healthy foodie for this scrummy recipe
**********************
vine tomato and ginger soup
A wholesome tomato soup
with a ginger & balsamic vinegar twist!!
Ingredients:
4 or 5 vine tomatoes.( or a can of suma tinned tomatoes )
small piece of ginger, finely chopped
a medium handful of basil or 1 tbl of dried
2 tsp boulion powder ( or any veg stock )
1 pint of water
Method:
chop the onion, garlic and ginger
Gently fry and stir until soft
Stir in chopped tomatoes,
add everything else and simmer for 15 mins.
take off the heat and blend.
season to taste.
How about a sprinkle of cheese, or a swirl of cream to finish it off..?
vegan/dairy free choices always available.

All the ingredients are available from our lovely shop.

Tasty and simple just how we like it!
We can even make it easier by adding the extra ingredients to your shopping list. . for a Monday delivery.. check out the veg box details on this blog, or email us bearwholefoods@yahoo.co.uk
This weeks organic fruit and veg list
butternut squash..1.50 each
beetroot..1.14 500gms
broad beans..1.30.500gms
local courgettes..1.80. 500gms
chestnut mushrooms..1.50 250gms
chard..1.25 a bag
endive..80p
peppers..1.00 each
red potatoes..60p kg
rhubarb..1.25.500gms
bag of spinach..1.40 bag
big bunch of spring onions..1.40 bunch
vine tomatoes
big juicy and full of flavour...
2.40 500gms
fresh herbs £1.00 mixed bunches
salad bags £1.75
fresh locally grown beautiful flowers £4.00
fresh pots of herbs & bee friendly plants from £1.00
EU produce:
apples..1.40 500gms
avocado..90p each
carrots..1.00 500gms
garlic..50p each
red onions..1.25 500gms
red beauty plums..1.20..500gms
oranges..1.00 500gms
kiwi..30p each
lemons..60p each
other:
ginger..1.00 100gms
bananas..30p each
organic breads from£1,95
free range eggs £1.95
local milk £1.10. 2 pints
local cheeses from 1.75
Yorkshire wines,beers&ciders
local artisan chocolate
local jams & chutneys
and don't forget our own delicious hummus.
pop in it will be lovely to see you, or call/email us with an order for a Monday delivery..
More lovely recipes.....